MARIANNA BLACK LIBRARY PRESS RELEASE – Wednesday, November 15, 2023
Library receives funding boost for expansion & renovation project

Bryson City, NC – Expanding and renovating the Marianna Black Library will give new life to
Swain County's 53-year-old facility and increase services for the community. The library is
pleased to announce that the project has received a tremendous boost thanks to a $400,000
grant from Dogwood Health Trust.
"Having this infusion of resources from Dogwood Health Trust means that enhancements can
be developed much more quickly and efficiently than we ever could have done alone," said
Swain County Librarian, Jeff Delfield.
A renovated, larger building with a user-centered approach to design, will allow the library to
offer greater free access to new technology, hands-on learning, and personal enrichment
opportunities for people of all ages. New services will include a designated space for teens,
meeting/collaborative work rooms, a career & technology center, an Appalachian studies room,
a larger community room, and more programming space for pre-K and youth.
"We believe that the innovative ideas to dramatically improve health and wellness in our region
are best cultivated in partnership with the people who live and work in our communities," said
Dr. Susan Mims, CEO of Dogwood Health Trust. "We are pleased to partner in the expansion
and renovation of the Marianna Black Library as it grows to serve as a community hub for
learning and social connection. This aligns with Dogwood's overarching goal to create a
Western North Carolina where every generation can live, learn, earn and thrive, with dignity
and opportunity for all – no exceptions."
BLUE RIDGE PUBLIC RADIO – Tuesday, October 10, 2023
Bryson City Library receives $3.2 million in state budget, pushing expansion project forward
Lilly Knoepp, Senior Regional Reporter
After more than a decade of discussions about expansion at the Marianna Black Library in Swain County, the state budget will provide $3.2 million for the project.
Established in 1929, the Marianna Black Library in Bryson City is part of the Fontana Regional Library system which encompasses six libraries in three counties Swain, Macon and Jackson. The current building opened in 1970.
Swain County Librarian Jeff Delfield said few significant improvements to the library have happened since it opened.
Read more
"It hasn't expanded. Have there have been some changes? Of course, we didn't even have computers then so we have computers now. So some of the technology has come a long way," Delfield said.
In the last 15 years, the Fontana Regional Library systems built new libraries in Franklin and Sylva and renovated the libraries in Cashiers and Highlands, according to the Marianna Black Library Campaign Committee case study. The committee hopes that now it's Bryson City's library turn for expansion.
Delfield has worked on this expansion project since it started around 2010. He is excited that the additional 6,900 feet in the building will be able to provide more meeting spaces for the community.
"Cooperative workspaces again can be used by anything from tutoring after school to telemedicine to job interviews NC works will be able to use these rooms," Delfield said.
The new layout creates a career and tech lab, co-working spaces, a teen area and larger children's area as well as a local history reference room.
A library is more than books, Delfield explained, and these spaces are crucial in a county where internet access can be hard to come by.
Fifty-seven percent of Swain County's 14,000 population doesn't have adequate broadband access, according to the 2023 Southwestern Commission's county profile.
The expansion will provide some much-needed privacy for job interviews, telehealth and more that regularly happens at the library, Delfield explained. It will include more privacy for NC Works, the state employment office, which operates regularly at the library.
The process for expansion started with discussions in 2000, according to the Smoky Mountain News. Delfield remembered when the first feasibility study took place in 2009. Then the library lead community listening sessions.
In 2014, Don and Toni Davidson purchased and donated nine acres on Fontana Road for a new library. However, there were issues with the cost of the project, even with donated property.
The Davidson's donation also came with a deadline. If the county didn't use the land by 2021, then the land reverted back to the original owners.
Ultimately, that's what happened.
"We were ecstatic really until it was apparent that it wasn't going to happen, you know, and that was several years in. We really did think that we were going to have a library there on Fontana Drive when funding did not happen. It was unfortunate. And even more unfortunate. Yes, the land did have to go back to the donors," Delfield explained.
Delfield and Marianna Black Library Board Chair Ellen Snodgrass continued to work on options for the expansion. They agreed that major donations motivated the community and then credit Swain County Commissioners' $500,000 allocation in the 2022-2023 county budget to push the expansion forward.
"There were a couple of starts and stops for other ideas. But this ultimately, keeping the library in downtown and expanding and renovating the current location," said Delfield. "We're just as ecstatic about this project to be perfectly honest. The square footage will be just a little bit less than what we were going to have with a brand-new library."
In January, the pair says they presented the project to NC State Senator Kevin Corbin and State Representative Mike Clampitt to ask for funding.
"They were impressed, I guess, and they said that they would push for this project in the state budget," Delfield said.
Corbin and Clampitt were successful in bringing $3.2 million to the county they represent. The funds will be provided in two installments of $1.6 million for the next two fiscal years.
The new state budget funding brings the expansion project's total fund balance to $4.9 million out of the $5.3 million needed for the current project budget, according to Snodgrass and Delfield.
The project committee raised $1.2 million from private donations and grants.
"At some point, we will be opening up a general campaign to the general public," Snodgrass said.
Snodgrass said she expects construction to start in 2024.
The Fontana Regional Library System is currently renegotiating its regional agreement with the three county managers. The agreement won't impact this project, Snodgrass said.
"It really has no bearing on this project. We don't know, at this point, how that agreement is going to come together. Obviously, when it does, we will certainly abide by whatever agreement is made. It's between the three counties and also with Fontana Regional but this project stands on its own," she said.
MARIANNA BLACK LIBRARY PRESS RELEASE – Thursday, September 28, 2023
Library to receive $3.2 million in state funds for renovation project
Bryson City, NC – The Marianna Black Library in Swain County, NC has received a boost to its fundraising efforts for its expansion and renovation project. State legislators Senator Kevin Corbin and Representative Mike Clampitt worked to secure $3.2 million in funds for the 53-year-old library building located in downtown Bryson City. The funds will be provided in two installments – $1.6 million in the 2023-2024 fiscal year, and $1.6 million in the 2024-2025 fiscal year.
The project committee has raised $1.2 million, with $500,000 of that amount coming from the Swain County Government for the initial phase. The additional funds from the NC Legislature will be a big step toward reaching the current project budget of $5.3 million.
The library is planning a new design approach that puts the needs of its customers first. The renovation will provide more space for new amenities, such as small group rooms for studying or collaborating, a center for career and technology resources, a regional reference room, a larger area dedicated to children's programming, a new space for teenagers, and an expanded community room with a small kitchen.
Visit SwainCountyLibraryProject.com for a video tour of the plans, project details, new services, major donors, giving options, and a contribution form.
THE SMOKY MOUNTAIN TIMES – Thursday, February 2, 2023
Activity at the library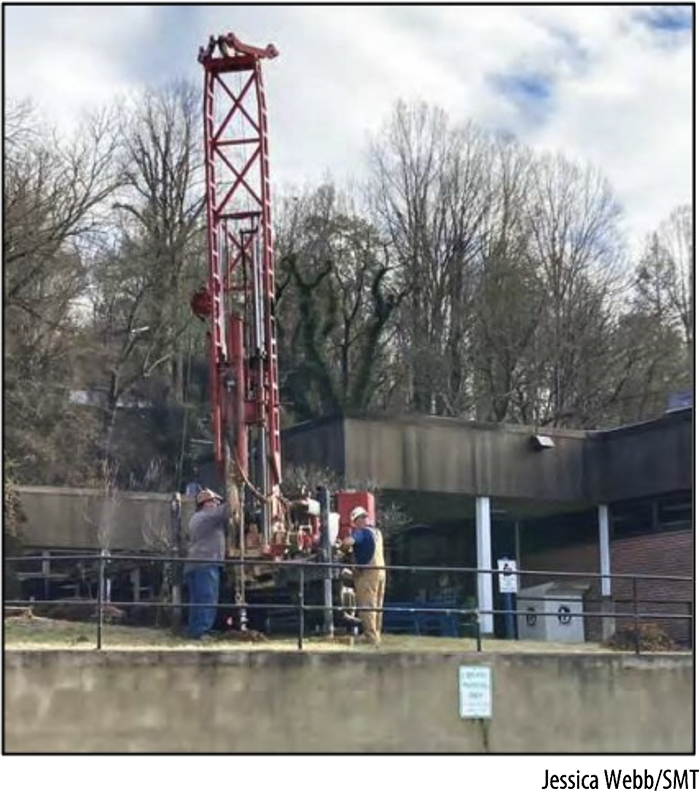 On Monday afternoon, Jan. 30, it was a little noisier outside Marianna Black Library in downtown Bryson City. Baker Jordan, of Jordan Environmental LLC, and his team were getting boring samples. "They drilled seven holes around our property, a few for each area of the proposed expansion," explained MBL Librarian Jeff Delfield by email. "They were sub-contracted by S&ME, the civil engineers contracted to create the structural designs for the retaining walls south and east of the building. Work on the walls is scheduled to begin this spring." This is indication of how the work to have a newly renovated library for Swain County continues. To learn more, you can stop by the library today (Thursday, Feb. 2) from 3-5 p.m. for Coffee at the Library with Cynthia Womble, MBL board member, who will share details about the project. You can also visit swaincountylibraryproject.com.
THE SMOKY MOUNTAIN TIMES – Thursday, December 15, 2022
Laying the groundwork for library renovations
Jessica Webb, Editor
On Tuesday morning, Dec. 13, Cynthia Womble held the first of what she says will be several Coffee at the Library events at Marianna Black Library to get the word out about the renovation and expansion planned for Bryson City's library.
A few people attended with questions ranging from what the library's current operating budget is to what the new community meeting room will be like.
Read more
Back in February, Ellen Snodgrass, chairwoman of Marianna Black Library Board of Trustees and member of the campaign committee first unveiled the plans to expand the current library in Bryson City. It has been relatively quiet since then, but a flurry of activity has been happening behind the scenes and the committee is hopeful this approach that Womble called both affordable and feasible will come to fruition.
Swain County commissioners included funding in its current budget to build a retaining wall behind the library as the first step on its end, with plans for county crew to begin work in the spring. County Manager Kevin King has also mentioned the need for a new roof and HVAC system for the building.
The campaign committee has been meeting weekly since October with campaign planning consultant Wilson Sims and with input from Philippe Rosse, grant consultant.
"Having these two consultants is significant for our group being a volunteer group it keeps us more motivated and active," Snodgrass said.
She speaks to the consultant at least three times a day, she said.
"It's so exciting," she said. "It's been so long, it's exciting to see something actually happening."
Jeff Delfield, MBL librarian, said it feels like they've gotten about six months' worth of work done in six weeks.
"I'm more optimistic at this point than I have been in this process," Delfield said of the efforts to expand the library and its services for Swain County.
Delfield has been the librarian since September 2005, and work to identify the growing needs of the library began with a consultant and public input sessions across the county in 2009. That study, named the Dubberly Report, called for a much larger building that turned out wasn't feasible for the county.
However, a lot of the services that were first identified then will become available with the current plans for the renovation and expansion. Those services include a dedicated space for teenagers, private meeting rooms both for two people and smaller groups and a technology and career lab.
The private rooms are particularly needed.
"Every day, people come in here and ask, 'Can I come in with my computer?' and often it's for a Zoom meeting," Delfield said.
The new community room will be larger and have a larger dedicated storage area for chairs, tables and supplies. It will also have a prep kitchen. The kids area will also have its own program room for children's events like storytime and its own bathroom.
Parking is the only challenge Delfield and Snodgrass said will continue to be an issue at the current location, even though there is additional parking planned.
Snodgrass said the group is in the readiness phase to begin a serious fundraising effort. The committee has been trained on fundraising, amassed educational materials and on Tuesday launched its new campaign website at swaincountylibraryproject.com.
The committee is also in the process of applying for several large grants and has been in contact with state representatives about potential state and federal funding.
Snodgrass stressed that the goal of raising $2.5 million from government sources doesn't mean they are asking the county for all of that. Plus, the county's portion of funding will include in-kind work of the county crew.
"I'm looking at this as an enthusiastic partnership," Delfield said of working with the county, who owns the building. "I think the commissioners are seeing we're working our tails off for this project."
As funding is secured, the renovation and expansion are planned in phases. First is the new retaining wall then exterior work would begin with added parking on Rector Street including two handicapped spaces that should serve the public much better.
This would be followed by the expansion on the south and east sides of the building. "And then, we get into renovation, and the last part is the new entrance with move of community entrance," Snodgrass said. Unlike other aspects of the work, that project is larger and would require the county to contract it out.
The committee is certainly flexible in its planning but is also hopeful that by the end of 2024 the vision will be a reality.
To the question, are you going to have to close the library while this is going on? Delfield jokingly said patrons will be handed a hardhat when they come into the library. In reality, though, they know services will be limited but they will do their best to see services continue during the construction with options such as outside pick-ups for books on hold.
"The goal it to minimize the impact," he said.
THE SMOKY MOUNTAIN TIMES – Thursday, December 15, 2022
Our Opinion
A good investment
The need for increased space and a library that can offer more services to the people of Swain County has long been recognized. In fact, the first big study conducted that has led to the current project was in 2009.
Fast forward to December 2022, and the library campaign committee is launching its educational and fundraising campaign to see the current plans move forward. It's exciting to see things moving ahead in a way that feels like it's going to really happen.
The expansions and renovations planned at the existing library are certainly scaled back from the idea of building an entirely new facility, but they are still designed to meet the community's needs. Plus, the scaled-back plans do in fact have a price tag and plan that will work better for the county as far as its budget goes.
We encourage our county leaders to move forward with including its maintenance plans for the current library in its upcoming budget as well as some additional funds as a commitment to see this expansion and renovation come to fruition. Such a commitment would also signal to donors and would-be grantees that an investment would not go to waste.
We encourage our readers to go to the new campaign website swaincountylibraryproject.com and learn more about the plans.
We also want to recognize the folks who work diligently to form these dreams of improved spaces for our community and say, thank you!

THESOUTHERNSCOOPNEWS.COM – Thursday, December 22, 2022
Swain leaders eye library expansion
Brittney Lofthouse
More than 50 years after opening its doors, the Marianna Black Library in Bryson City is looking to expand its facilities, an answer to the library's acute need for more space. Plans are to renovate the current downtown library increasing its size, using the 0.53-acre property to its maximum potential.
The proposed renovated, larger building will give the library 72 percent additional space providing Swain County residents greater free access to new technology, hands-on learning, and personal enrichment opportunities for people of all ages. The project will allow the library to expand existing as well as add new programs. The expansion will give the library the ability to provide simultaneous services and programming.
Read more
The planned Marianna Black Library expansion and renovation will add dedicated spaces for these essential services:
• Education Support — With separate spaces for teens and expanded children's areas, the library will provide supplementary educational programs for all ages, from early childhood through elementary, middle and high school grades. Working with local schools and community colleges, students can expand their interests in STEM programs, recapture lost academic credits and prepare for colleges and careers. The designated teen area will include books, music and video collections and will be an area where teens can socialize, use computers/tablets and plug in their own digital devices. The larger children's area will have space for reading, using tablets and devices, for group activities and programming, as well as a small restroom.
• Small Rooms for Meetings — The addition of private rooms for various social services – including legal, mental health and economic support – will provide a much-needed setting for business meetings and group collaborations within the community.
• Career and Technology Center — The addition of flexible 'co-working' spaces will be utilized for professional development training and on-site business incubation as well as adult education and career advancement. Theseparate Career & Technology Center will allow for informal computer use and software instruction, as well as robotics, STEM, 3-D printer, music recording, & other collaborative projects. The desks and tables will be smaller with more flexibility of arrangement.
• Employment Counseling and Support — The library is now the permanent Swain County location for NC Works, the state's workforce development system connecting businesses with qualified talent. Expansion will provide a private office for counseling.
• Community Room — A central meeting place will be available during and after library hours for community information gatherings and collaborations, including host speakers and workshops.
• Internet Services — The library's high-speed connectivity makes it a reliable online resource for the community, particularly for families and students in the underserved areas of the county.
• Multi-purpose room – A large, adaptable multi-purpose room will be included to provide for a variety of programming, guest speakers, workshops, group projects, movies, and space to produce content for e-learning & other virtual programs.
• Carolina Room – A special room will be available for reference and study about the area and to serve as a small meeting room.
The project will also include more computers, additional parking spaces, a drive-up book drop, after-hours access for groups to the community room, restrooms and prep kitchen and outdoor spaces for free, after-hours internet access and safe entering and exiting the building.
The proposed library site is designed to meet the requirements for ADA accessibility and will provide accessible parking with accessible routes to entrances for patrons and employees. The new proposed building interior is also designed for complete ADA accessibility throughout the library.
Plans for the Marianna Black Library are to renovate and expand the existing 9,550 sq. foot facility to an updated facility with 16,450 sq. ft. The expansion and renovation are estimated to cost $4.32 million. That total includes $3 million for construction; $222,000 for architect & engineering fees; $750,000 for furnishings, furniture and equipment; and $300,000 as a contingency. Other expenses include $50,000 for marketing, project management and administration.
Construction on the library renovation and expansion is scheduled to begin in March 2023. The initial work on the library will be excavation and construction of a retaining wall. Later in the year, further exterior site work will be completed as well as an expansion on the south and east sides. In early 2024, the interior is expected to be renovated. In the second half of 2024, the new entrance and community room is anticipated to be constructed completing the project.
The early days of the library can be traced back to the work of Bryson City community leader Marianna Fischer Black. In 1929, interested in promoting reading in Swain County, she began circulating books in Bryson City out of two old suitcases.
The next year, the Marianna Black Library had its first physical location. In 1930, the library was created in the grand jury room of the Old Courthouse with about 2,000 books.
In 1935, the Works Progress Administration built the community building on the square and Black was given some space there for her library. Black continued her library work until she died in 1960.
By the mid-1960's, the library had continued to expand, now under the direction of Anna Lou Casada, outgrowing its space in the community building. A citizens group, headed by Edgar Fisher, Roberta Whitaker, Mercedith Bacon, R. L. Lyday and John Wikle, began a drive to raise funds to build a new library. These six individuals secured a Library Services and Construction Act grant of $114,000 and an Appalachian Regional Development grant of $46,000. The group also raised $40,000 in local matching funds bringing the total funds for the new library to $200,000.
In 1970, the library opened in the new building with more space to meet the growing demand for library services and with more room for books and magazines.
Throughout the years, the Marianna Black Library has continued to add services and technologies to answer to the evolving needs of the community. With each added service, space has become more and more in demand. Activities like tutoring, computer instruction, career counseling and small group meetings currently compete for the same space and, when privacy is desired, there's no real viable option in the existing space of the current library.
The Marianna Black Library is a member of the Fontana Regional Library System, which began in 1944 when the Tennessee Valley Authority sponsored a regional bookmobile to visit the most remote areas of Jackson, Macon and Swain counties. Fontana Regional Library coordinates a wide range of public library services for six libraries in the region. Over the past 15 years, The Fontana Regional Library has built new libraries in Franklin and Sylva and renovated the libraries in Cashiers and Highlands.
Money to pay for the library will be generated through individuals, civic groups, bequests, business and foundation gifts/grants, and government entities at the local, state and federal level.
The Marianna Black Library staff invite the public to come by the library, take a tour and see what is planned for the library. To schedule your tour, please call or email Jeff Delfield, Swain County Librarian, at 828-488-3030, ext. 128 or jdelfield@fontanalib.org.
Marianna Black Library Campaign Committee
33 Fryemont Street
Bryson City, NC 28713
828-488-3030 ext 128
jdelfield@fontanalib.org